As he already knows, Citrix Virtual Apps and Desktops could provide both applications and desktops installed on a remote server or client system, but what is with Published Content like Websites? But how cool would it be if you could integrate web applications or intranet websites into your storefront? A central workspace for Published Content would come one step closer.
Today I would like to show you how it can integrate web applications directly into the Store Front, where you could decide if you want to launch them via a Citrix Published App or in your local browser. The feature I want to show you today is Citrix Virtual Apps and Desktop Published Content. You can use this feature in Citrix XenApp and XenDesktop from version 7.11 and also in Citrix Virtual Apps and Desktops. Since this configuration cannot be activated via the user interface (Citrix Studio), we do it via Powershell.
Lets go to the Shell
First you load the Powershell Snapin in for the administration of Citrix. With the command "New-BrokerApplication" you can provide new apps as published content.
asnp citrix*
New-BrokerApplication -Name "ThomasPreischlWeb" -PublishedName "BlogSite" -ApplicationType PublishedContent -CommandLineExecutable https://www.thomaspreischl.de -DesktopGroup VirtualAppsDG
Once you have issued the command you will see an overview of the app that has been created as Published Content. Here you can also see what options you can change later.
You can now see the application in the studio in the Applications section. There you can also adjust the settings, but the possibilities are limited. For example, you can't customize the icon, but you can configure the permissions for the application with the right mouse button.
Since the application is displayed with a standard icon of Citrix, it looks like the following picture in the storefront.
How you can change the icon of the Published Content App?
In the following article you can read again how to create and generate new icons for the published apps.
https://www.citrix.com/blogs/2013/08/21/xd-tipster-changing-delivery-group-icons-revisited-xd7/
I think it's a bit awkward, but it's an ingenious article that gave me the idea of mine.
It's easier with a trick
But I want my Published Content App to use a custom icon. Here I would like to show you a trick how you can replace the icon with your desired icon Das without much effort. Without having to convert the images. To do this you simply have to configure an additional application and assign the desired icon to it. In this case I simply created a Notepad Published App and the icon I want to use as an example. Here you can also be that my application is already displayed in the Applications section of the studio. My icon is also displayed correctly.
You can adjust the whole thing via Powershell again. If you open a new window here, you have to load the Citrix administration snapin again. Then we'll display the existing icons.
Get-BrokerIcon | select Uid, EncodedIconData
In our case, our icon was created with the attachment of the second application. We are now looking for the application where we want to use our icon. And set the icon to the desired ID. In our case this is ID 2.
Get-BrokerApplication -Name "ThomasPreischlWeb" | Set-BrokerApplication -IconUid 2
In the studio you can already see the new icon. Here you can see that it was set correctly.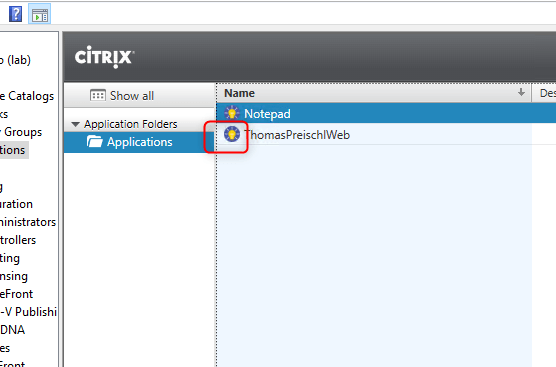 Since I want to continue using my Notepad application, I reset the icon to the original one. Here I have attached a screenshot to show the whole thing on the storefront website. Here you can also see our custom icon that we used for our Published Content App.
Another cool tool for Published Content
On top of my looking for information on this topic I have yet found this interesting tool "Published URL Content". You can download it on GitHub. With this tool you can create the Published Content Apps using a GUI. You can also edit the apps or change icons.
You can find the GitHub to the tool under:https://github.com/citrix/PublishURLContent
Here you can see how you can create new apps with "Published URL Content".
You can also edit them or change the icon.
Since I really like the feature, it was important for me to share the information with you. I hope the article has helped you and saved you time and effort. In my other articles you can find more information about Citrix Virtual Apps and Desktops, but also about Citrix ADC (Netscaler) and Microsoft Azure.
Otherwise I am happy about a Like on Facebook, Xing or if you follow me on Twitter. You will find the social media buttons on top and on bottom of my page. You can also share my article if you like.