How to apply Company Branding on Microsoft Login Pages?
In this article I will explain to you how you can change the Microsoft login pages to your corporate identity for your company, also called "company branding". You can apply your Company Branding on Microsoft Login Pages. This can be done centrally for sites like the Microsoft Azure Portal or for Microsoft Office Online.Once centrally set, it can be used on most Microsoft login pages, for example in the Microsoft Azure Portal or also for Microsoft Office Online.
Of course, if your company uses Microsoft Online Services, users will need to log in to the portals more frequently. Since the default login pages do not look very attractive or even change the background images, many companies want to add their logo or background image to the login pages. Sometimes I find changing background images rather annoying, because less experienced users don't know if they have landed on the right page. I personally customize all portals that offer the possibility of a corporate identity, because I simply find it much more appealing for the users and it also makes the platforms for the users somehow.
The default Microsoft login pages
Let's take a quick look at the pages before we apply your Company Branding on Microsoft Login Pages. Here you can see some of the Microsoft login pages in standard view. Whereby one cannot necessarily say standard, since these look actually constantly different ツ
The Microsoft Azure Portal page in default
The Microsoft Azure Portal page in default (today because its change often)
It is confusing when the pages always look different. In times of phishing mails, which are sent every day, this might not be the most sensible option.
How to apply corporate identity on Microsoft Login Pages?
First you need a Microsoft Azure Active Directory. You will have this automatically as soon as you create a client with Microsoft Online, whether in Microsoft Azure or Microsoft Office Online.
We will now make the adjustments in the Microsoft Azure Portal. There we can apply Company Branding on Microsoft login pages. Please go to your Microsoft azure portal: https://portal.azure.com
There we change to Azure Active directory and choose Company branding. Here you select "configure". If you have created a design later, you can simply click and edit it in the list of existing designs on the same page. You can also create a separate login page for different languages, for example to customize the text modules.
The respective language is read from the browser. If a language does not have its own page, the default is used
Now we adapt the individual elements to apply corporate identity onMicrosoft Login Pages. For your convenience I have marked the individual elements. This makes it easier for you to see which settings is effecting the respective element.
Is your  Company Logo
The Login Page Background Image you want to display
Here you can put in your welcome text or maybe some legal informations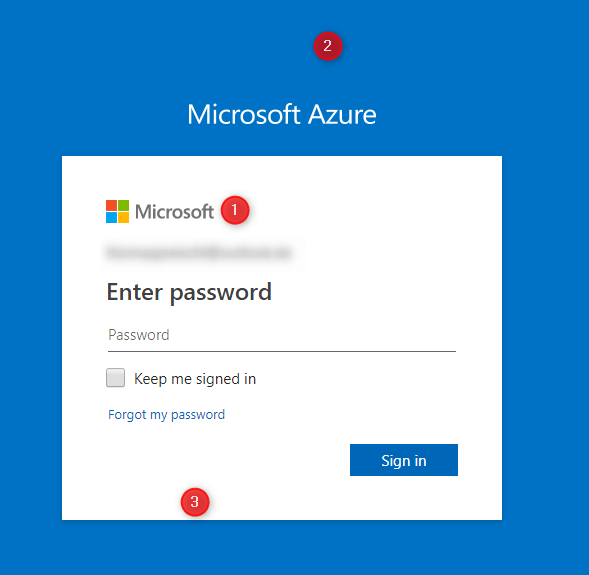 Let's customize the page
Here you can see again the settings I use for my login page. You can also add a company logo which is displayed in the portals. I didn't do this in my example because I don't need it.
Once you have adjusted everything as desired, you can save the settings and log in to the portal again.
Important information: The settings are only displayed for accounts created or synchronized in the Azure Active Directory. My Admina account is not, therefore the Company Branding Login Page is not displayed. For all other users it is.
Now the Microsoft Office Online Login Page and the Microsoft Azure Portal Login Page look the same.
If you successfully loged in to Microsoft Online Services, you will be asked if you want to save your login for upcomming logins. You can also deactivate this option for the users, so that this is no longer possible.
I hope as always that you liked the article and that it will help you. If you have any questions or suggestions, please write me a comment. Also read my other articles.