Today we want to have a look at the Configure Microsoft Azure Backup for VMs. Many of you have probably already set up virtual machines on Azure, but have you configured the backup accordingly? That's exactly what we want to deal with today. We will look at how you can set up Azure Backup and how you can configure backup policies accordingly. Closure, we'll take a look at how to restore the virtual machine.
How does it work?
Here you can se a picture which makes it easier to understand.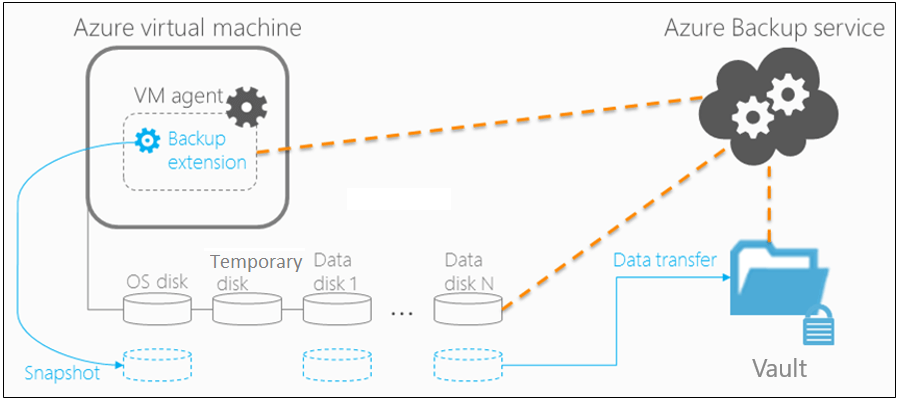 How does Azure Backup for virtual machines work? The job is started via a schedule or manually. A VMSnapshot extension is installed in the machine for the backup. This happens during the first backup. Afterwards, snapshots are created via Volume Shadow Copy Service (VSS) and then transferred to the corresponding Tresor. During the next backup, only the blocks that have changed will be transferred or saved.
More detailed information can be found under the following links:
https://docs.microsoft.com/en-us/azure/backup/backup-azure-vms-introduction
http://aka.ms/backup-learn-more
Active and Configure Microsoft Azure Backup for VMs
First you log in to your Azure Portal. When searching for resources, you can search directly for "Recovery Services vaults". Of course you can also select this via "all resources". Here you can add a new Recovery Service vault. This is done with a click on "Add". Now you have to select your subscription and your resource group. Next assign a name for your backup vault. After the connection you have to select the region in which you want to configure the Tresor. Click on "Review + Create" to create it. To confirm you have to press "create" again.
Let´s check out our Recovery Services vault
Zum Öffnen des Backup Tresors könnt ihr auf "Go to ressource" klicken.

You can now find it by typing the name you have given in the search box. Within the Recovery Service vaults you can now make settings. Here you can see for example how many items (VMs, DPMs, SQL Instances or Azure Storage Instances) are currently backed up in this vault. You can also configure which items will be replicated to other regions in Microsoft Azure. In the section "Manage" you can define backup policies and adjust them afterwards. There are already two standard policies that exist. That's what we want to do now.
Create a new Backup Policy
As in any other backup software, we also have to configure backup policies in Microsoft Azure Backup for VMs. To do this, we create a new backup policy using "Add". First you have to choose your policy type. Here you can choose if you want to back up virtual machines, SQL or files. In our case we choose "Azure virtual machines" and assign a name for the policy. It is important to know that he is not allowed to use spaces in the name. Here you can choose how often you want to backup your machine. You can also define the retention times of the backups.
Once you have configured everything as you wish, you can create the policy by clicking "Create".
Here you can of course configure several guidelines for all your needs. Enclosed you can find a link for the limitation of the Recovery Servicesvault
https://docs.microsoft.com/en-us/azure/backup/backup-azure-backup-faq
If the policy has been created, you can see it in your backup policies. There you can change them at any time.
Backup a Virtual Machine with Microsoft Azure Backup for VM
Now that we finally want to back up our virtual machine, we first go to the appropriate virtual machine to configure the backup. When you have selected your virtual machine you will see a menu item "Backup".
There we want to configure the backup. First we select our Backup Tresor. From here you could also create the Recovery Services vault. Next we have to choose a backup policy. To activate the backup we click on "Enable Backup".
Enclosed you will find a link where you can see the prices for Microsoft Azure Backup: https://azure.microsoft.com/en-us/pricing/details/backup/
If the backup for the virtual machine is set up successfully, you can see this under the menu item "Backup". There you can also see the Backup Pre-Check is successful. We also see that the "Last backup status" is still waiting for the first backup and therefore displays a warning. Now we want to start the first backup manually.
Create your fist Microsoft Azure Backup
Therefore click on "Backup now" Here you have to specify the retention period for a manual backup. To start the backup choose "OK".
You can see the status of the backups currently running under "View all Jobs" in the "Backup" section of your virtual machine. You can also see the running backups in your Recovery Services vault under the menu item "Backup Job".
Therefore, the first backup was successful, you can see this on the overview page of the backups of the corresponding virtual machine. Here you would also see if there are other backup types available for this virtual machine and which recovery type is available.
Restore a virtual Maschine
To restore a backup, select the appropriate backup and click on "Restore VM".
Now you have to choose if he wants to create a new virtual machine from the backup or if you want to overwrite the existing one. In my case I want to overwrite the existing virtual machine and choose "Replace existing". Here I have to choose the restore type and the staging location. The restore is started with "OK".
The running process could now be seen again under your backup jobs. Double Kick could also display a detailed status of the recovery.
Once the recovery is complete, you can simply restart your virtual machine and use it again.
Stop backup a virtual machine
if you want to deactivate the backup for a virtual machine, you can do this again via the menu item "Backup" of the virtual machine. To do this you have to select the button "Stop backup".
Now you will be asked if he wants to keep the restore points or if he wants to delete them. Here you also have the opportunity to leave an info why you have deactivated Microsoft Azure Backup for VM again. Once you have done this, select "Stop backup" again.
The restore points will still be available for two weeks after removal, so you can still restore them. To do this, you only have to click on "Undelete".
Important information on deleting the Recovery Service vault
You can also delete a Recovery Services vault. You can only delete a Recovery Services vault if there are no more backups associated with it. So you first have to Disable Microsoft Azure Backup for VMs on the virtual maschine first. Since the recovery points are still available in the virtual machine for 14 days after the backup is removed, you cannot delete Recovery Services vault until after that time.
I hope this article has given you some interesting information about Microsoft Azure Backup for VM. And you can now run your Microsoft Azure environment more securely and easily. If you have any questions or suggestions, please write me a comment. Also read my other articles about Microsoft Azure here.